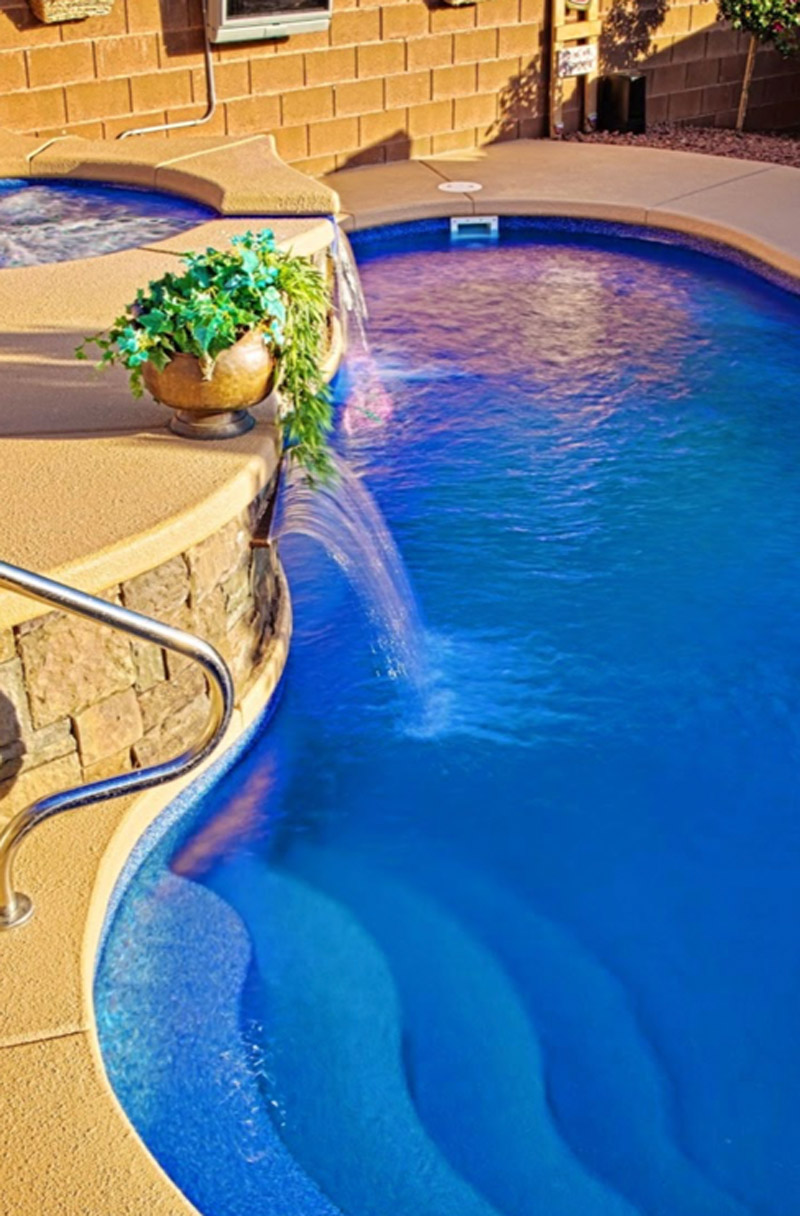 At Paradise Design, we strive to deliver the highest quality products and service available. We are one of the most trusted spa and pool companies in the St George, UT area. We would love to help you with your hot tub and fiberglass pool needs.
Our highly trained and knowledgeable staff always strives to provide you with efficient and friendly service. If you are in need of spa or pool service, please call us today. Our expert pool contractors will provide you with high quality spa and pool maintenance.
Our inground pools and spas are affordable and guaranteed to last for years to come. If you are looking for a fiberglass pool installer in Southern Utah, or are interested in a hot tub spa for your backyard, call us today!
Let our expert design team turn your backyard into a beautiful, relaxing paradise. We are experts in high quality pool designs and unique pool ideas, and our pool design experts will transform your yard into a personal oasis for you to enjoy for years to come.
Family Owned and Operated Since 1995
We are licensed and insured in the State of Utah and Nevada.
We are a licensed General Contractor, Masonry and Pool Installation.
We are the authorized dealer and service center for all of our product lines.
We Strive for Excellence.
We Strive for Friendly and Efficient Service.
We provide knowledgeable product support and are available for any questions
and any service support you might need in the future.
We strive to provide you a quality, maintenance friendly product
That you and your loved ones will enjoy for many, many years to come!
Imagine… Paradise In Your Own Backyard!
New Showroom Location
446 N Park Street Suite D
St.George UT 84770
We Believe in helping everyone create a special place – a place to escape the damage of a stress driven lifestyle, and rejuvenate; body, mind and soul.
A place where the joys of spending time alone, or being together with loved ones,
is enhanced by your beautiful surroundings.
Paradise Design is more than just a pool and spa. We treat our clients like family.
Learn more about the qualities of our products and staff that make us who we are.
Ryan Kors, Hurricane, UT
This is the second time I've used Paradise Design Pool & Spa. I like that they spend a lot of time in the early stages making custom changes to exactly how I wanted things in the yard.
TIM & LORA, St. George, UT
We wanted to thank you for all of the help you provided in planning and implementing the building of our new backyard oasis. You were always receptive to our calls (and visits) and helped us in every way possible.
LAUREN WOOD, Ivins, UT
We absolutely love our beautiful new pool. Paradise Design Pool & Spa made great recommendations on design and customization, allowing us to make our pool unique and personal to us.
Caldera Spa Owner
I've enjoyed my spa for just over 3 years now and am amazed at the tremendous difference my spa is with my lower back pain. If I go three days without sitting in my spa, my back reminds me that I am overdue for a soak. As soon as I feel my lower back start locking up, I head right for my spa.
Caldera Spa Owner
I love my new Caldera Spa. My wife and I have been taking a soak each evening and both sleeping better.
Caldera Spa Owner
We bought this hot tub to help with my husbands back pain. It was the best investment we have ever made. This hot tub is amazing. It has so many jets and seating is great. We would highly recommend this spa for anyone looking for a great unit. We use nightly and it is so easy to take care of with the frog system, it came with our steps and cover and we added a lift for the cover which is great as one person can lift cover off of tub with no problems. It is AWESOME !!!
Caldera Spa Owner
This is our second Caldera Spa and we love it! Our new spa has so many wonderful features! I would highly recommend any caldera spa!
Caldera Spa Owner
We love this hot tub! Our whole family goes in it year round and its so peaceful and relaxing! We have ours outdoors next to our deck and the lights from the house shine on it at night and its a subtle light and then the spa lights are on and beautiful too...We enjoy the jets and how we picked out the seating and it heats up very quickly. too..The service from our dealer is great also..! Definitely recommend this hot tub!
Caldera Spa Owner
We have had our Caldera Hot Tub for almost two years and it has been so great!!! This hot tub is the best quality we had found and we looked at them all. The Frog system made it a final choice and it takes all of the hassle out of water chemistry, very easy to use and allows you to enjoy the hot tub more without trying to figure out what to add and how much. Great tub we are very pleased.
Caldera Spa Owner
The dealer was awesome! Arrived on time with lots of help, explained everything, and we're done quickly. Spa has had zero issues, works great, and has been very enjoyable.
Caldera Spa Owner
Soaking in my Caldera spa is just something I do for myself. Nothing helps me to escape from the cares of life faster than my spa!
Stephanie Murdoch
We left the beaches of California for the desert and red rock of St George in 1995. I loved the community here, but found the summer heat debilitating and depressing. In 2005, Randal and his crew at Paradise Design built us a beautiful swimming pool in our backyard, and since then summer has become my favorite season! 2017 will make 13 summers we've enjoyed swimming, exercising, lounging and entertaining friends and family right outside the back door! Not only is the pool itself awesome, the expertise, professionalism and service has been exemplary, and we have had no issues with the pool or the equipment. The job was done right from the beginning! Thank you, Randal, for 13 years of Paradise in our very own backyard!
Mark Ludwig
Paradise Design is so much more than Swimming Pools and Spas. They are designers. 30 years of experience took over as the owner himself Randal, came to our home and drew out pool and spa recommendations. Then the magic happened. Randal and his crew made it real. Simply the best at cement work. The final outcome is one of the most beautiful transformed backyard paradises in Southern Utah.